Krayin is easy to use and the most popular Opensource Laravel CRM. While the platform offers plenty of flexibility, its singular goal is to help salespeople to achieve their goals. "A complete User Guide of Krayin CRM" will let you know everything you need to know about Krayin.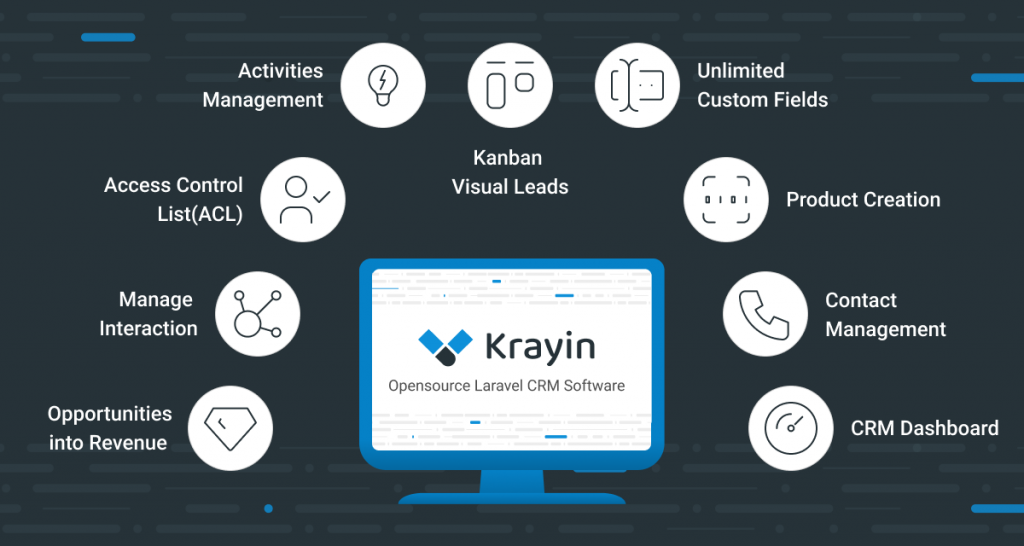 Dashboard:
First, you need to login into the Admin Panel of Krayin CRM, then you will be able to see the Dashboard with the following features.
Leads Overtime: In this section, you would be able to see the Won (green color) and Lost (red color) lead according week-wise.
Leads Started: Here you can see the number of leads week-wise. For instance, in the first week, there would be 1 lead or in the second week, there would be 3 leads.
Top Leads: In this section, you can see the highest amount of lead in the top lead.
Activities: In the graphical representation, you can see all activities like meeting, call, and lunch.
Pipelines: In the pipeline, you would be able to see all the leads in the default pipeline and in the newly created pipeline.
Emails: Here you can check all the emails like inbox, outbox, draft, outbox, etc.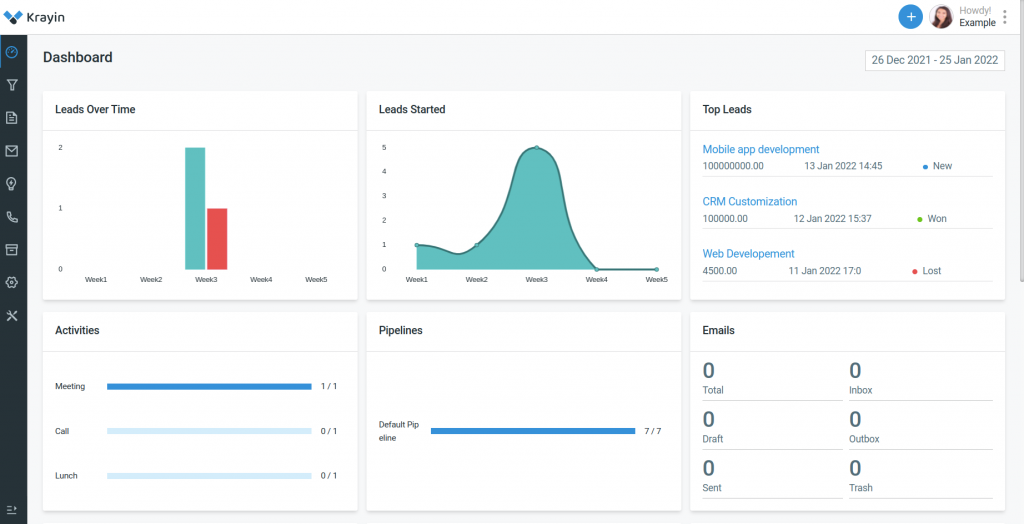 Customers: When a lead will be won then it'll become a customer. In this view, you can see all the customers week-wise.
Top Customers: Who has more leads, will show in the Top Customer list.
Products: It will also show week-wise. If you add a product every week then it'll show there.
Top Products: All the products which have the higher amount, it'll be shown in the Top Products.
Quotes: All the quotes you have created, will appear in the graphical representation.
Note: Once you will click on the "+" sign then you would able to add various features directly from there, as you can see in the below image.

Note: You can update and remove the user profile photo by clicking on the My Account.

Leads:
Kanban View of Lead:
Leads refer to the contact or potential customer also known as "prospects". When you will receive the interest of any customer then you can create the lead. You can drag and drop the leads from one stage to another and many more features you can find here: https://krayincrm.com/how-to-create-leads-in-krayin-crm/

List view of Lead:
Here you can edit, delete and also perform mass actions like delete and update stage of the leads.

Krayin Google Integration:
By integrating Google with Krayin CRM, you would be able to perform and track all the activities, and tasks in your synced Google account.

Quotes:
In Krayin CRM, Quotes are legal agreements between a customer and vendor to deliver the customer's requested products in a specified time frame at a predefined price. You can create quotes from here: Dashboard –> Quotes –> Create Quote
Note: You can directly create the quotes by editing the leads as well.
Mail:
You can access comprehensive CRM information on the sender and associated project in the mailbox at the touch of a button. Email service in Krayin CRM will provide you with centralized access to information, all files, e-mails archived messages, etc. For sending mail you need to go to Dashboard –> Mail
Note: For Reference, you can go through this link: https://krayincrm.com/how-to-manage-emails-in-krayin-crm/

Activities:
Tasks, Calls, and Meetings modules in Krayin CRM are helpful in giving a complete perspective of the respective sales activities that are performed for a prospect for that you have to go to Dashboard –> Leads –> Create Activity
For Reference: https://krayincrm.com/how-to-manage-crm-activities-in-krayin/
Persons:
In Krayin CRM you can create, edit, delete and perform bulk actions in the person section. Now you can export the person's data into XLS and CSV format.

Organization:
Go to Contacts –> Organization and click on Add Organization.

Products:
To Add Products open the Admin Panel and go to Dashboard –> Products

Setting:
In the setting, there are various options like :
User: Manage all your users and their permissions in the CRM, and what they're allowed to do.
Lead: Manage all your leads-related settings like Pipeline, Sources, and Types in the CRM.
Automation: Manage all your automation-related settings like Attributes, Email Templates and Workflow automation in the CRM.
Other Settings: Manage all your extra settings as web forms and tags in the CRM.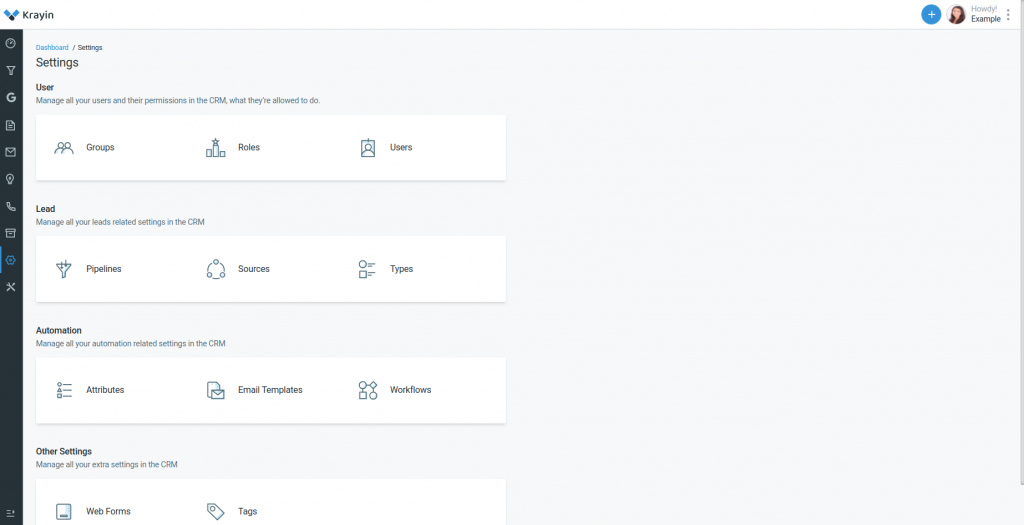 Configuration:
From here you configure the language of the Krayin CRM, By default, we are providing you with English, Turkish and Arabic language. We are working on other languages as well.

In this blog, I tried to explain everything about the Krayin CRM. If you have any queries or suggestions then get back to us on the below links:
Ticket: https://webkul.uvdesk.com/en/
Support: [email protected]
. . .